Table of Contents
installator - CADP installation assistant
installator
[
-beta
]
This program installs CADP on one machine or on several machines connected by a Local Area Network. It can also be used to upgrade an existing version of CADP already installed. Installator takes in charge the following tasks:
Inquiry about the latest version of CADP available on the FTP site of CADP,
Download of the latest version of CADP available using the FTP protocol,
Archive extraction and installation of CADP on the local machine or network,
Registration of CADP using the Request For License procedure.
Although a manual installation of CADP also exists, the use of installator is strongly recommended, as it ensures that the installation will be done correctly and automatically.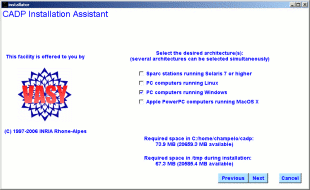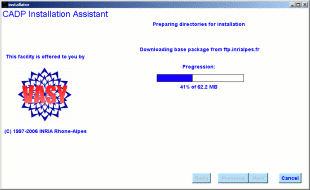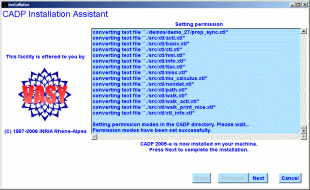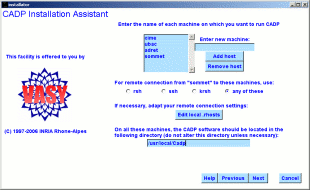 A few snapshots of Installator
-beta

download a beta-version of CADP (instead of a plain, stable version). Do not use this option unless you have been specifically advised to do so by the CADP development team.
Exit status is 0 if everything is alright, 1 otherwise.
Hubert Garavel, Aldo Mazzilli, Patrick Wendel (INRIA Rhone-Alpes)
installator
is a shell script located in
$CADP/com/installator
that launches a Tcl/Tk script to be executed by the
wish
interpreter. The source files of
installator
are available in directory
$CADP/src/installator
tst
Additional information is available from the CADP Web page located at http://cadp.inria.fr
Directives for installation are given in files $CADP/INSTALLATION_*.
Recent changes and improvements to this software are reported and commented in file $CADP/HISTORY.
Please report new bugs to
Hubert.Garavel@inria.fr
---